"Did you see my bag, Did you see my bag? It's hella trophies and its hella thick" – BTS
---
More Trophies
BAGs Bro? I DON'T think they're enough anymore. At this point with their level of success what the BTS members seriously need is a storage container of some sort. Or if anything else a whole freaking unit to themselves instead. 😛 Cuz these trophies they keep winning lately be starting to stack hella high right now and it's getting dangerous. And with the kind of momentum they got going the next thing you'll know, the fandom itself will get a trophy or two of their own. Then what, where will they all fit!?
But oh no it may already be too late to start thinking about. Let's just hope the group is somehow ready for our success when it happens. lol
Cuz I'm no clairvoyant but I can clearly see ARMYs getting a win on the horizon on, drum roll please,  March 11th. *gasps* O.O Think I'm joking with you, think again. If you're unsure of what I'm referring to and have no idea how I came up with that date I would suggest heading over to iheartradio's twitter. It was only recently I was made aware of the good news myself.
Yup you see that. The BTS ARMY is indeed up for an award of their own in the #BestFanArmy category at the iHeart RADIO Music Awards 2018. And seeing how well BTS has trended all year long and even landed on Guinness World Records for it, I'm thinking chances are high we're gonna win it. But with that being said, I would also like to take the time to congratulate another kpop fandom that you may have noticed made it on the list of nominees with us. One that could very well sneak the win if we're not too careful. *looks around* lol 😎
Of course I'm referring to you lovely EXOLs out there. Always good to see more Kpop groups getting world wide recognition like this. Yes even our "supposed" rivals. Because my belief is if us Kpop fans truly want "K-pop" in general to expand more into the West and succeed, ultimately it's gonna take more than just one group to make it. So when a situation like this arises and multiple acts get a spotlight, sure let's support our faves first but at the same time let's do what we can to support each other. Competition is good but come on, let's #multifandom it up in this biatch. 😀 lol
Who's with me?*waits for responses*
*
*
Anywho let's now move on to the segment I like to call "What else Is In the Bag?"
What else Is In the Bag
(This is the segment where I make a list giving y'all a quick recap of all the latest BTS Achievements. Easy Peasy. Let's begin)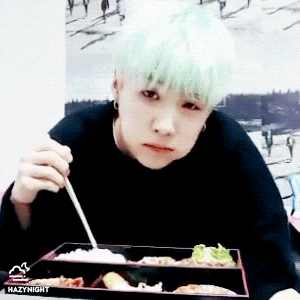 First BTS Continues to Dominate Billboards World Album Chart(In fact Love Yourself: Her continues to hold onto its first place spot meanwhile past albums You Never Walk Alone and Wings continue their resurgence by sticking around in 4th and 5th place!)
Mic Drop Remix Climbs back up Billboards Hot 100 Chart(Over its 6 weeks on there the track has gone from 28th place to 71st, to 79th, stayed at 79th, dropped to 82nd, and is now back up to 66th. Meaning it's currently doing better in its 6th week run than it did on it's second. Just WOW 😮 )
Love Yourself: Her climbs up too(After 13 long weeks it has suddenly made a 34 spot jump to now land 72nd on The Billboard 200. Could this be thanks to their appearance on Dick Clark's New Years Rockin' Eve? More than likely yes because BTS was the most Shazamed out of all the artists there during that broadcast)
Then lastly Mic Drop Remix makes it onto the top 25 at Pop Radio, coming in at number 24. This is particularly good because it should mean we can expect more radio play going forward. 🙂
Next!
*
It Played Where?
Also being a Resident of L.A. there was something else that caught my attention recently. The fact that MIC Drop Remix was played during the intro of a Lakers Vs OKC game. I saw a video of it getting passed around on reddit a few days ago and was like is this for realz? Yet another occasion where I see it played during a sporting event. A basketball game no less. Don't you think we have Desiigner to thank for this? Because I swear all these stadiums are simply putting it on just because he mentions the word "Basketball" at one point in the lyrics. lol 😆😅 Yeah I think their reasoning is THAT simple.
If that's the case maybe this will endear his version to the ARMYs who were originally disappointed by it or against it at start. 🙂 Now knowing that his part could possibly be the reason for this type of extra hype. Whatever the conclusion you come to tho just make sure to check it out sometime ok. Lucky for you there's plenty of footage available online from the people who were there live in the flesh. Take this for example, its best I could find:
*
*
From the look of things everything went about as good as you would want them to. For starters the video package playing on the big screen while the song was going was dope. Also I think the lyrics work well on a couple of different levels here. For one, this song is about not caring about the haters, which sports in general are full off. And two, if you're a team with literal trophies in your bag why NOT use it? It can work as a good bragging song. Plus you never know if they do keep using it in games like this maybe they'll put it in NBA 2K19 or something down the line. That's a video game for you non-gamers out there. Ha
 *
#EXTRA
Then last but not least I got this fun little extra to share with y'all. It's BTS related but then again at the same time not as much. It's this rap collab thingy involving Flowsik, who interestingly enough is one of the credited producers on Mic Drop Remix. Not positive how involved he was but I've heard he may have even consulted with BTS on the English lyrics, but don't quote me on that. It's not the reason I bring it up anyways. The reason I bring it up is instead because at one point during this video he himself raps over the beat from Mic Drop Remix. And yes like his name would would suggest the bars during it be flowing sickly and IDK I just feel you peeps would appreciate it.
Furthermore, I know I've told you this a couple times before but I gotta tell you here again, he is quickly becoming my favorite rapper…in general not just in K-Rap. After listening to all his songs I have come to believe the man was gifted a magical deep voice from the Rap Gods up above. I swear he could rap about loving cute things like puppies and kittens and yet still it would sound hard someway. Have a listen for yourselves. Oh and I mean it please do have a listen for yourselves and if you like what you hear check out his MV for DAE1:
Well I think that's all for tonight. Feel free to share any thoughts and criticisms with me. I'll be sure to respond as quickly as I can. I Promise! With that said I'll see you again in my next post. ^_____^